3D Grass Plant Food, 2.5 Gallon, 2/CS
3D Grass Plant Food, 2.5 Gallon, 2/CS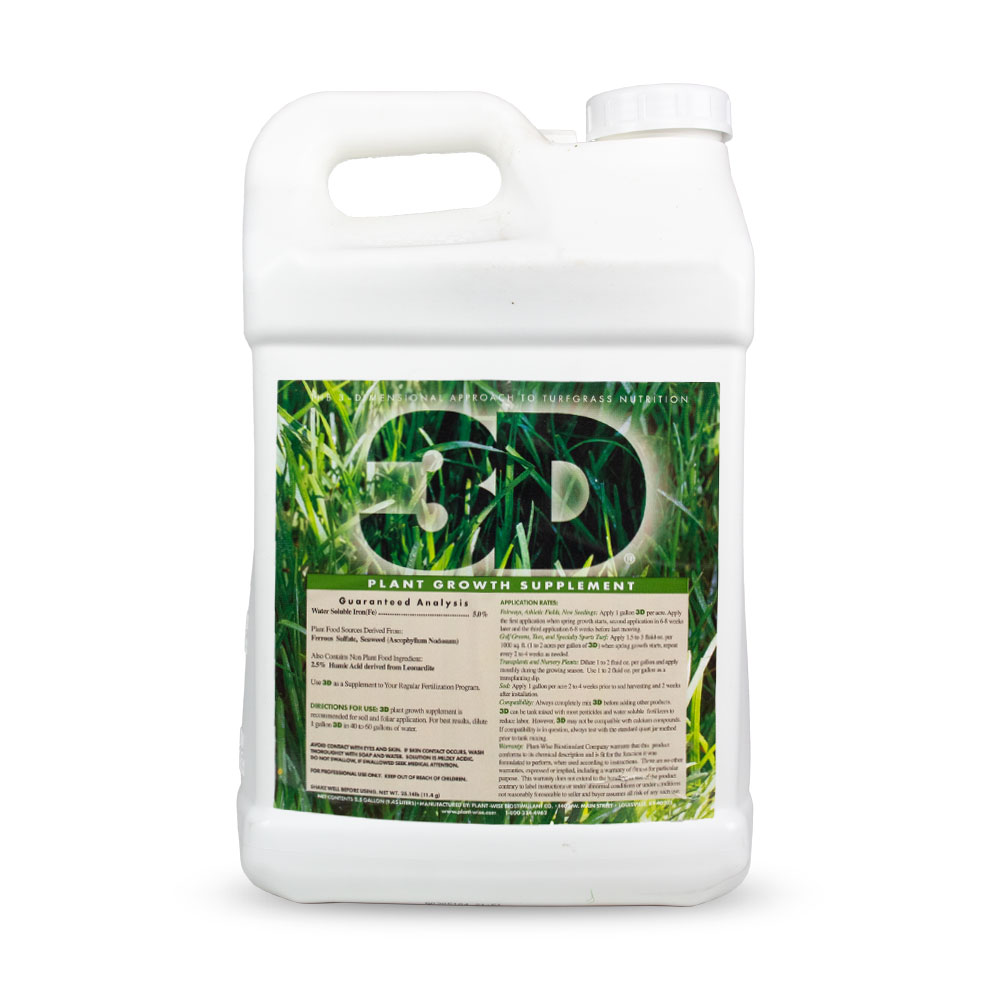 Details
Resources & Downloads
3D BIOSTIMULANT: 3D is a concentrated formulation of the finest plant growth enhancing compounds which has been custom designed and balanced by our research team to maximize plant performance. Its availability and affordability to all segments of the turfgrass industry continues to convince sports turf managers, turf producers, hydroseeding contractors, and other turf professionals of its ability to enhance turf vigor and improve stress tolerance. The scientifically manufactured, tested, and proven formula is environmentally friendly and promotes root development, hormonal supplementation and nutritional fortifications of the plant itself in order to ensure peak plant performance.
Improved plant performance, especially under stress
Reduced nematode damage by increasing tolerance and root mass
Increased root mass and depth
Reduced leaf water loss
Increasing antioxidant and chlorophyll levels in plants prior to and during stress
Improved color
Reduced frost damage
Guaranteed Analysis
Water Soluble Iron (Fe): 5%
Humic Acid: 8.4%
Derived From:Ferrous Sulfate, Seaweed (Hscophyllum No Dosum)
Directions For Use:
2D Plant Growth Supplement is recommended for soil and foliar applications. For best results, dilute 1 gallon 3D in 20 to 30 gallons of water.
Application Rates
Lawns, New Seedlings: Apply 1 to 2 ounces 3D per gallon water per 1000 square feet initial application when spring growth starts, second application 6-8 weeks later, and third application 6-8 weeks prior to the last mowing.
Transplant, Nursery Plants: Dilute 2 to 4 fluid oz, per gallon and apply monthly during the growing season. Use 2-4 oz. per gallon water as a transplanting dip.
Sod: Apply 5 ounces per gallon water per acre 2-4 weeks after installation