CURLEX II DOUBLE SIDED EXCELSIOR EROSION CON. BLANKET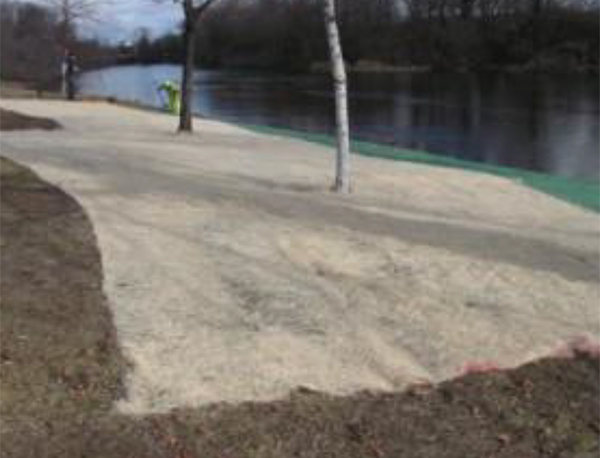 Curlex II erosion control blanket (ECB) is a natural, stitched excelsior blanket that provides a temporary organic cover to reduce erosion, protect seeds, enhance germination, and hasten re-vegetation. Curlex II is furnished in rolls with polyethylene wrapping to protect against the elements prior to installation, and may be ordered in Master-Paks of fifteen rolls banded together to minimize material handling requirements. Curlex II is also available as QuickGRASS (green pigment). Curlex II shall be manufactured in the U.S.A.
Details
Resources & Downloads
American Excelsior Company is the inventor of biodegradable erosion control blankets. Developed in the early 1960s, Curlex excelsior blankets are specifically designed to actually promote ideal growing conditions for grass seed, while simultaneously protecting topsoil from wind and water erosion. Curlex excelsior blankets have long passed the test of time. By design, Curlex blankets have a built-in swell factor — wet curled excelsior fibers slightly expand in thickness and interlock to form a strong, fiber matrix. This allows the fibers to provide intimate contact with local terrain. Water flow is trained to follow the curled fiber matrix. The roughness of the curled excelsior matrix slows the velocity to a point where gravity takes over, which allows moisture to slowly seep into the topsoil to promote ideal growing conditions.
Material Characteristics
Curlex blankets consist of unique softly barbed, interlocking, curled, Aspen excelsior fibers. They are naturally seed-free. Curlex blankets are available with a variety of environmentally sensitive and/or stronger netting types to match job site requirements. We offer a green color-coded plastic netting for applications requiring UV resistance, strength, and longevity. Our photo-degradable Quick Mow™ netting is recommended for urban, golf course, and certain roadside projects. It is color-coded (white) to identify it as a rapid breakdown, polypropylene netting designed for use in areas to be mowed. Also available is our FibreNet™ — 100% biodegradable netting — for use in critical environmentally sensitive areas.

Most straight-line fiber blankets draw the line at 270 g/m2 (.50 lb/yd2), but not Curlex. At just under 400 g/m2 (.75 lb/yd2), Curlex blankets bring 50% more erosion control fibers to your job site. Curlex blankets are available in natural Aspen or QuickGRASS® (green). Combine that with a roll that is wider than conventional blankets and you have today's most effective and efficient multi-purpose biodegradable erosion control blanket. Curlex excelsior blankets are available individually wrapped or in master packs to allow for mechanical unloading and stacking
Typical Applications
Highway embankments, ditch bottoms and slopes, bridges, approaches, and medians
Residential, commercial, & industrial developments
Urban drainage, stream banks, and waterways
Golf course fairways, roughs, waterways, & drop structures
Landfill caps, side slopes, and let down structures
Pipeline right-of-ways
Specifications
Recommended Use:
Slopes to 1.5:1; Channels to 9 ft/s, shear stress to 2.25 lb/ft2
Roll Sizes:
4' x 112.5' (50 yd2)
8' x 112.5' (100 yd2)
16' x 112.5' (200 yd2)
Weight*:
.73 lb/yd2
Netting Options:
Green, Quick Mow White (90 day), FibreNet
Color:
Natural Aspen or QuickGRASS (Green)