CC-4 COCONUT EROSION CON. BLANKET 8'X112.5'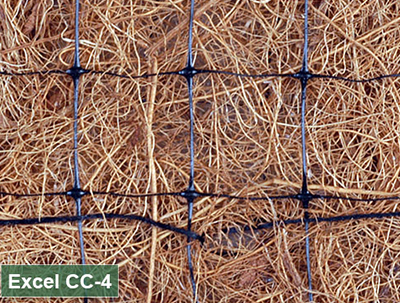 Western Excelsior manufactures a full line of Rolled Erosion Control Products (RECPs). Excel CC-4 consists of a machine produced, clean coconut fiber matrix, manufactured for consistent coverage and thickness. The coconut matrix is confined by a UV stabilized photodegradable, synthetic net on top and bottom, mechanically (stitch) bound on two inch centers. Excel CC-4 is intended for slope or channel erosion control applications requiring up to thirty-six months of functional longevity. Actual field longevity is dependent on soil and climatic conditions.
Details
Resources & Downloads
Western Excelsior's Excel CC-4 Erosion Control Blanket (ECB) consists of a matrix of 100% coconut fibers stitched between two nets. Excel CC-4 is available with ultraviolet stabilized, synthetic (Regular) or biodegradable (All Natural) netting. The Excel CC-4 ECB provides erosion control for a period of up to thirty-six months and serves as a mulching layer. Actual longevity depends on soil and climatic conditions. Available in a variety of roll sizes, Excel CC-4 provides reliable, economical erosion control, ideal for slope projects that would benefit from the longest lasting and highest performance erosion protection. Excel CC-4 is also recommended as a long lasting, degradable liner for channel projects. Like all Western Excelsior products, Excel CC-4 is made in the USA and yields LEED credits for the end user. In addition to a complete suite of standard documentation, detailed information on the advantages and properties of the product are provided below.
| Property | Excel PP5-8 |
| --- | --- |
| Matrix Color | Natural |
| Netting | Top and Bottom |
| Netting Type | Synthetic |
| Netting Degradability | Regular |
| Stitching | Synthetic |
| Stitch Spacing | 2 in On Center |
| Matrix | 100% Coconut |
| Degradability | Completely Degradable |
| Degradability Mechanism | Photodegradable / Biodegradable |
| Unit Weight | 9.5 oz/yd^2 (322 g/m^2) |
| Thickness | 0.26 in (7 mm) |
| Tensile Strength (MD) | 18.4 lb/in (3.2 kN/m) |
| Tensile Strength (TD) | 12.7 lb/in (2.2 kN/m) |
| Coverage | 15% open |
| Available Widths | 7.5 - 16.0 ft (2.3 - 4.9 m) |
| Available Lengths | 112.5 - 450 ft (34.3 - 137.2 m) |
| Nominal Longevity | > 36 Months |
| Enhancement | None |